Hello Garrforce…
March 11th, 2016
Later in this letter I will tell you how to access the show, however…..I wanted you to be the first to know a few things.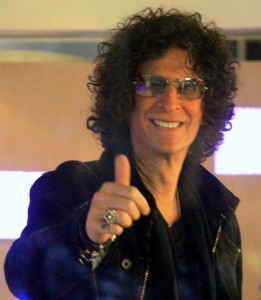 …while I write this at 2:52pm on March 6th, 2016 Peyton Manning is getting ready to retire and presumably drink a lot of Budweiser and Nancy Reagan is dead and I'm guessing she couldn't bear to witness another minute of this election cycle, I hear ya Nance. However I am still in the game and anxious to get started on March 12th. We must be at spring's doorstep because I just poured the last bag of bread mix into my machine. I had ordered 24 bags to get me through the dark days of fall and winter. Mission accomplished and God the place smells like a bakery. Having said all that, I want to thank you once again for all of your support and I am very happy to share with you that you are the first to know that the premiere guest on my new show will be, my friend, the King of all Media Howard Stern. Howard and I came through the radio ranks during the same era and experienced a lot of the same things. While he is the King of all Media I am more of the jester of said media. The conversation will take place in two parts on Episode 3 and Episode 4, which are scheduled to upload on March 16th, and 18th and I hope you enjoy it. I certainly enjoyed talking with him. Future episodes will include conversations with John McDonough, President and CEO of the current Stanley Cup Champion Chicago Blackhawks and Rich Melman, Founder and Chairman of Lettuce Entertain You Enterprises, one of the most successful restaurant companies in the country with over 100 restaurants making people happy in 10 states. The shows will also have the type of thoughts, comments and conversation you are used to hearing ….. an interesting mix to help get you through your day.
Here's how you can listen to the show:
Initially, there will be free shows that will available on Monday, Wednesday and Friday of each week. The above-mentioned episodes will be part of that.
You can hear the show any time you want and you can also choose the way you listen. The easiest way to listen to the show will always be through the website at GarryMeier.com, where you can also get updates on episodes and also become a Garrforce Premium member and get access to even more content. But if you are on the move, the show will also be up on every podcast source out there. Just pick your favorite and click "Subscribe".
There is also an App that is available on Google Play and iTunes!
If you enjoy my free shows and would like to support them, you can do so, as mentioned above, by signing up for a monthly subscription that would provide you with 1 to 2 additional shows per week as well as at least two interviews with various unique, interesting people per month. You may also get random videos of anything that pops into my mind from time to time.
In the Episode Guide, those shows will be marked as premium content.
I thank you in advance should you decide to sign up and hope to be bringing it to you for many, many years to come.
Just go to the Garrforce Premium tab and climb into my head even further!
Will Lee, former bass player for The David Letterman Show in Paul Shaffer's band will be my first interview on Garrforce Premium.
I will also be blogging on my website under a tab called "Out of My Mind".
I found my thoughts are too long for Facebook, so a small snippet will be on Facebook directing you to the blog for the rest of the story.
The blabbin cabin is now open! Please feel free to email me with any questions or problems you may experience trying to access the show. It's a work in progress so…
Strap in and enjoy the ride!
Peace,
Garry
Older: « A preview of things to come