A preview of things to come
March 10th, 2016
I thought I would share with you what I recently sent to the people that signed up for emails. The following is a sampling of the type of email you would occasionally receive if you join the Garrforce…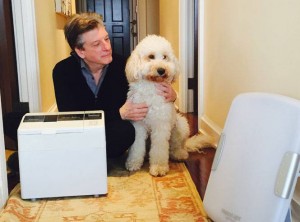 While putting the finishing touches on the show I will soon debut, I thought I would also share a photo with those of you that have been kind and interested enough to sign up for my emails. While this winter has not been the beat down like the last two, this past week has been rough on those of us with delicate skin or any skin for that matter. Now that Powerball fever has broken, the way I get through the dead of winter is with my family and that includes my dog. Other things that help are my happy light on grey days and my bread machine. By the way, I didn't think I wanted a dog until we got one and now I can't imagine not having a dog. He is amazingly sweet. As you can see in the photo, he and I are discussing our bread choice to make for the day. Oh and when that bread aroma kicks in on a cold winter's night, ahhhh! Bring on the hot soup.
So…I am sending these tips to those of you in the Garrforce, living in a cold climate, with the hopes that you too may find comfort in one of these suggestions.
Stay warm my friends.
Peace,
Garry
Older: « End of February